Wedding Photo Booth by Funky Photo Booth
Mixing photo booth love with funky fun and lots of laughter.
Included with every Wedding Photo Booth
Your own Booth Butler to assist guests and ensure all runs smoothly.
Prints for all guests each time they use the Funky Photo Booth.
An extra set of prints for the party host.
Your personal message on prints.
A choice of banner designs to match your favourite colours or party theme.
Professional level studio lighting and digital SLR camera for perfectly exposed, blur free photos.
High speed printer producing touch dry prints in around 10-seconds.
Your own password protected web gallery.
Optional Facebook gallery.
Digital download of all images at high resolution for you to share and make re-prints.
Prop Box bursting with a variety of different items to add extra funkiness in your photos.
Travel to your venue.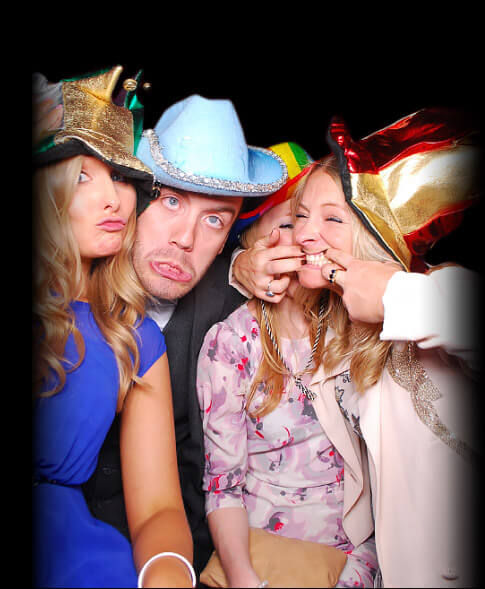 Get a price for your Wedding Photo Booth
Just fill in the quick form to tell the Funky Photo Booth team about your event and we'll check our diary for availability and send you our best price.
Alternatively, feel free to call us for more information on:
Tel: 01489 583601
Mob: 07734 700887
We have a number of Booth Butlers spread across the south of the UK and cover the following counties:
Berkshire.
Devon.
Dorset.
Gloucestershire.
Hampshire.
Oxfordshire.
Somerset.
Surrey.
Sussex.
Wiltshire.
Wedding Photo Booth
by a Professional Photographer
Funky Photo Booth is one of the few photo booth companies designed, owned and managed by a professional photographer. When it comes to image and print quality we do not compromise.
Each wedding photo booth uses high end digital cameras, studio level lighting and provide touch dry lab quality prints within 10-seconds.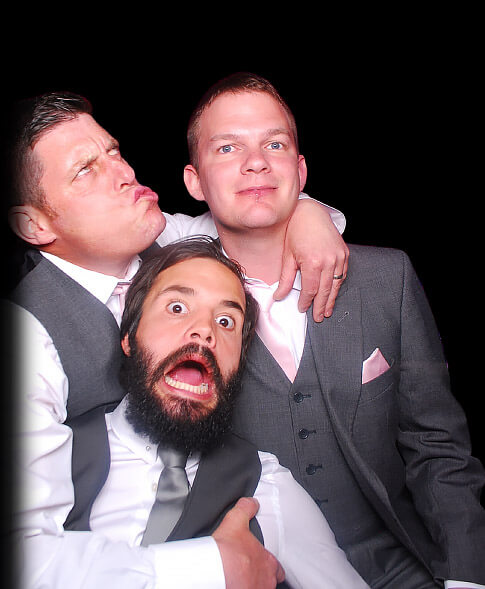 Photo Booths have been going down a storm at weddings for quite a few years. We started back in 2008 and were the first company on the South Coast to provide them.
When we first started we expected photo booths to be another 'wedding fad' for a few years before fizzling out. The truth is they're more popular than ever and we're just as busy now as when we started. For guests that haven't used a wedding photo booth before, then it gives them a lovely memento to take home with them. For those that know what fun they can have in the photo booth, then there's no holds barred.
The way it works is simple. Each of our photo booths is manned by a friendly booth butler who will let guests know how the things work. Inside the booth is a box full of goodies to dress up in. The prop box is full of hats, wigs, moustaches, over sized glasses, inflatable flamingos and goodness knows what else we'll have sourced for your wedding.
Once inside, your guests squeeze together on a seat and the booth butler will draw the curtains. A screen inside counts down before taking a picture. This happens four times and the final picture is shown on the screen. In between each picture being taken you'll hear giggles and laughter getting louder and louder. Props will be swapped, seats will be exchanged and things just get crazy as guests become more creative with their pictures. We sometimes question it ourselves. 'Wwhat on earth is going on in there?'. Especially when more people come out of the photo booth than went in!
Around 10-seconds after the last picture is made, the first print is ready to take away, dry to touch and at top print quality.
Each of the pictures taken are collaged into a design made especially for your wedding. This includes your own message on each print too. We can design prints around any stationery, fonts or colours you have chosen for your wedding. You can choose from any of our ready made designs also.
The booth butler will ask how many prints your guests would like (up to a maximum of one per person inside the booth). They will also make a separate print for the Bride & Groom. If you have a guest book, the booth butler will encourage guests to leave the extra print in the book with a message. Be aware though, photo booth messages from guests are usually cheeky, often a bit rude, embarrassingly truthful but always funny. It's not unusual to find your guest book being looked at more than your wedding album.
Don't be surprised next time you're visiting friends and family to see a fridge door full of photo booth pictures taken at your wedding day.
All in all, the wedding photo booth is good old fashioned, honest, fun.
Six excellent reasons to Hire a Wedding Photo Booth
Everyone who uses your wedding photo booth will receive a print to take home with them. These make a great wedding favour and will appear on fridge doors, office desks and pin boards for years to follow.
The Bride & Groom receive a copy of every print made in the booth for their own guest book.
Guests can download the digital version of the images after your wedding day and see all the fun that was had in the wedding photo booth.
Don't be surprised if those guests that have been dodging the official photographer all day. They are the first to jump in the booth.
There's few entertainment ideas that everyone, young and old, can enjoy as much as a booth at a wedding.
It makes the perfect filler between the end of the day time formalities and the evening's party.