It was a cold, dark January evening. Heavy rain hadn't stopped for what seemed like hours. With so much water the van could have surfed its way into Worthing Dome with this photo booth. Hopefully, the sunshine during the day had meant Marcus and Hollie's wedding hadn't been hindered.

Due to Google Maps being as brilliant as ever, the van was parked up at Worthing Dome. A beautiful art-deco style cinema split over two levels. The lower level is still used for the latest films. Due to the large space of the upper level, it makes a great venue for wedding parties and other events.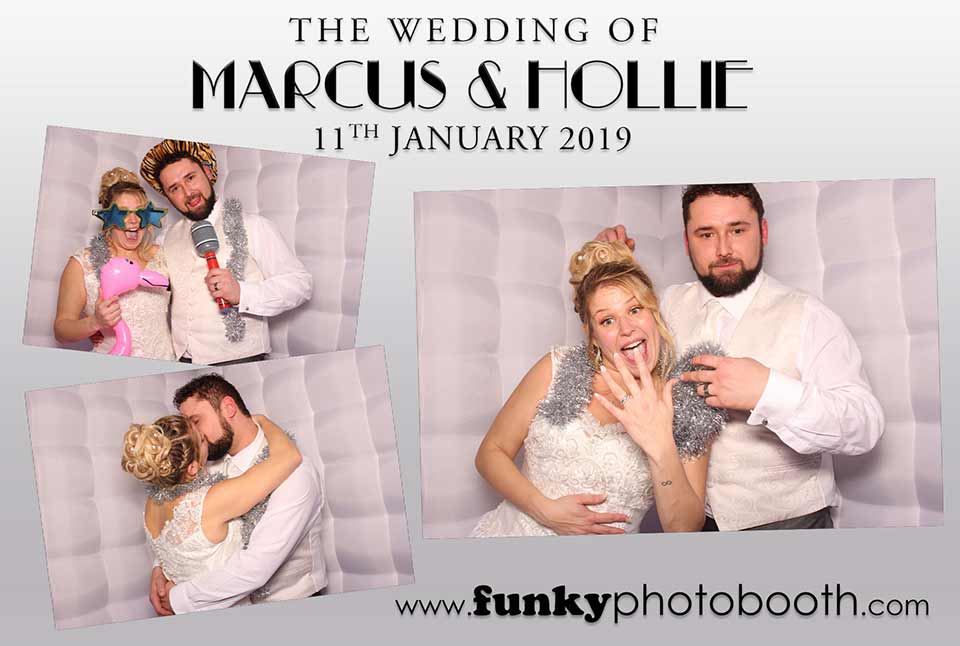 Once in the foyer of the cinema, a side-door creaked open. A young attendant smiled giving directions to the wedding party upstairs. Stairs may be quite a loose definition. These were a steep mountain of narrow, goat-path type steps.
After a few mountainous climbs all the components to the Funky Igloo photo booth were in place. Just 10-minutes later, everything was ready for Hollie & Marcus' wedding guests.
Art Deco Design
Matching the 1920s feel of the Worthing Dome, Hollie had chosen an art-deco design for their photo booth hire prints. A stylised font with a silver gradient background. This contrast of silver on black pages made the guestbook look amazing.
Marcus & Hollie's wedding had an amazing atmosphere. Guests of every age were there. Kids were running around having a fabulous time making new friends. Adults were catching up with relatives and reminiscing. The music was rocking and the dance floor full, thanks to DJ Adur.

Worthing Dome Photo Booth
The Funky Igloo glowed in the corner. Guests knew it was time to get funky. Minutes later, people were queuing for the photo booth. Creating a memento to take home and an extra copy to leave in the guestbook. A guestbook Marcus & Hollie will cherish for years.
The weather had tried to dampen this very special day. However, due to the amazing atmosphere at Marcus & Hollie's wedding, there was no chance of it succeeding.
A quick shout to the fabulous team at Baked and their amazing wedding cakes. Also to Sussex Party Shop who make incredible balloon creations.

Thank You, Hollie & Marcus
A huge thank you to Marcus & Hollie for hiring the Funky Photo Booth in Worthing Dome. Congratulations from the entire team. Thank you to your guests also. They were so warm and welcoming to Booth Butler Rob.
Guests can view and download their pictures in our gallery. The password is available from Marcus & Hollie.