January is always expected to be a quiet month for photo booth hire. However, every year we are fortunate to be proven wrong. It's a month of last-minute bookings and each and every one of them is always appreciated.

Last Minute Booking
Last-minute bookings in January are usually from hotels or retailers. They are just too busy for a staff Christmas party during December. However, this enquiry was different. Natalie was the organiser for this event. She was arranging the Bitterne Park School Class of 1991 reunion. The Oasis Bar in Southampton was the venue. There were enough guests all contributing towards the event that funds allowed for a Funky Photo Booth.
The Oasis Bar is a great venue for after-work drinks or a chilled night out when the clothes of choice include flip-flops. The bar has been open since 2008. Situated in between the Old Town and the High Street makes it an ideal location.

Booth Butler Bob
Bob O'Tron had his booth butler hat on for the evening. The staff at Oasis Bar were so accommodating and they kindly helped Bob bring the photo booth equipment into the venue. On top of that, they kept his glass of Pepsi Max topped to the brim all night long.
The photo booth was ready. The props were ready. The guests were ready. At last, Funky Photo Booth time had arrived.
Class Reunion photo booth
In no time at all the Class Reunion photo booth was rocking. It had been 28-years since some guests had last seen each other, yet it seemed like they had only seen each other yesterday.
Three ladies started the booth rolling. Howls of laughter coming from inside formally opened the party and guests lined up for the photo booth.
Gradually, as the party continued the groups inside the photo booth grew larger and larger. Everybody wanted photos with their old classmates.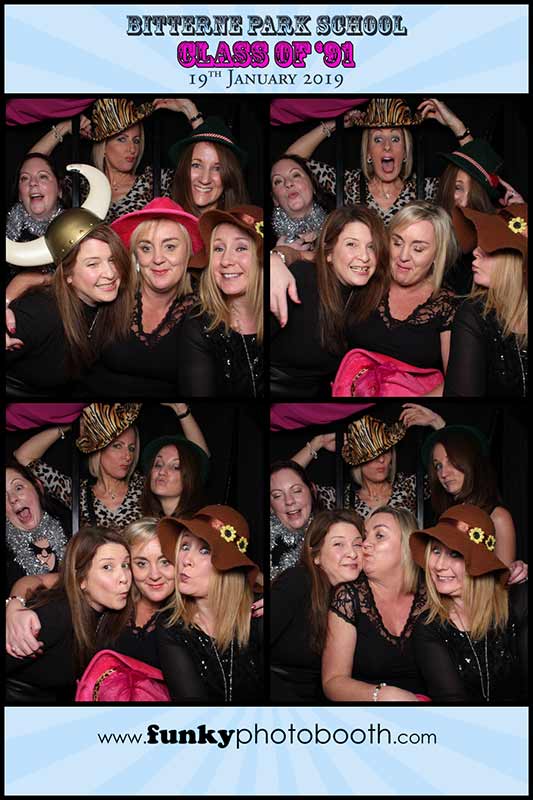 Thank You
Thank you, Natalie and your guests for hiring the Funky Photo Booth for your Class Reunion. It was an epic event to be part of.
Guests of the Class Reunion can download pictures in our gallery. Please contact Natalie for log-in details.
If you're looking for photo booth hire in Southampton, please do get in touch.